---
Taiwan Right Enterprise Co., Ltd. was founded in 1979. Factory is located in both China and Taiwan. Total square measurement of the factory in Wu Xi, Jiangsu Province China is 65,000 Square meters. Our company is a textile company which produces and exports various socks ranging from 56N to 400N with most up-to-date computerized machines. Our major exporting areas are USA and Europe.

We have control of every step like knitting, sewing and packing, so we can ensure you good quality. Our factory is passed the audits of JC Penny, Wrap, Sedex, Wal-Mart, The Children's Place, Disney, Kohls, Tween Brands, ISO9001 and etc.

Comfortable socks make a good life.
Reasonable prices make you more competitive in local market.
Good quality and good cooperation make us double win.

If you are interested in any of our products or would like to discuss a try order, please feel free to contact us. We are looking forward to forming successful business relationships with new clients around the world in the future.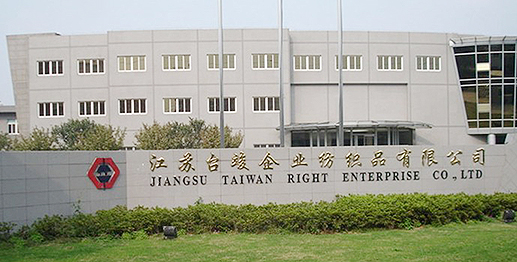 台竣企业纺织品有限公司,创建于1979年,总公司位于台湾,在上海设有办事处,并在江苏无锡设有工厂,工厂面积65,000平方米。公司以生产袜子起家,拥有齐全的机械设备和最新的电脑提花机,针筒从56N到400N。我司客户主要位于美国和欧洲等国家。
我们对编织、缝纫和包装的每一个环节进行质量控制,所以我们可以保证产品质量,公司现已通过JC Penny、Wrap、Sedex、Wal-Mart、The Children's Place、 Disney、Kohls、Tween Brands、ISO9001等审核。
舒适的袜子创造美好的生活。
合理的价格使你在当地市场上更具竞争力。
优良的品质和良好的合作使我们双赢。
如果您对我们的任何产品感兴趣或想讨论试购事宜,请随时与我们联系。我们期待着形成与世界各地的新客户在未来的成功的商业关系。